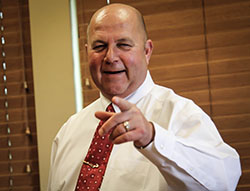 Originally born in Iowa, Gene Blum still holds fondly to his Midwest roots.
Upon graduation of high school, Gene attended college in South Dakota. At a young age he realized the warmer weather and moved to Florida after college. By 1995, Gene accepted a position to work for Club Corp of America, a company that would eventually promote him to General Manager. In 2004, Gene became a member of the CMAA (Club Manager's Association of America). Crown Golf Properties hired Gene in 2004 to become the General Manager of several Florida properties. After 5 years of successfully rebuilding the clubs for Crown Golf Properties in the Tampa area, Gene joined OB Sports in 2009 which is based out of Scottsdale, Arizona. Gene worked for Superstition Mountain until May of 2013. At the direction of OB Sports, Gene joined Heritage Eagle Bend Golf Club in 2013. Gene has become well known for revitalizing clubs with innovative and exciting ideas. He loves Heritage Eagle Bend Golf Club and the community surrounding. Those around Gene would note the infectious atmosphere filled with fun and enjoyment for all involved. Community members and employees alike respond well to his leadership.
He notes that he loves learning people's stories. "One moment I may get to have a conversation with a former Army general and the next it may be a business discussion with a former CEO", Blum said. "The experiences they have and journey they've taken to this point is fascinating to learn from," he added. Gene enjoys great wine, hunting, traveling the world over and spending as much time as possible with his family. Gene has been married to his wife Stephanie for over 20 years and they have three daughters, Karli, Abby and Marie. During football season, he keeps a close eye on the Iowa Hawkeyes success, and he is a big fan of the Tampa Bay Bucs as well.
Contact Gene:
gblum@heritageeaglebend.com
(720) 235-1821