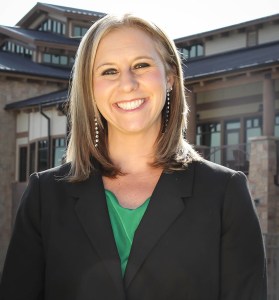 Jennifer Stoneking, Heritage Eagle Bend Golf Club's Director of Sales and Catering always looks forward to meeting couples to show off the newly remodeled Clubhouse. She can work with any budget to fine tune your Wedding details and menus. You can contact her at (720) 235-1822 or jstoneking@heritageeaglebend.com.
The DO's for Your Tour
DO show up on time. We suggest making an appointment and plan for at least 45 minutes at each location. Also, let your contact know if you are running late.
DO make an appointment. It's always best to get one-on-one time with the venue staff, so make that appointment to get personalized time. Sometimes, it's nice to see the venue setup for another event and staff may invite you to see the space fully decked out.
DO take pictures. Pictures truly tell a story and you will want to revisit the venue when you're trying to decide and remember the things you liked and didn't like about the venue. After numerous tours, venues will start looking similar, so pictures will help you remember the places your visited.
DO talk amongst yourselves. Choosing a venue is a personal decision between you and your significant other. There are lots of opinions and impressions that you are feeling as you go through the tour. Don't be shy to ask for a place to go to if you need to talk privately.
DO check out the reviews. Ask around and make sure to read the reviews on listings such as The Knot, Wedding Wire, Eventective, Google and Social Media. Read the good and the bad and ask questions about your concerns.
DO bring questions. Comparing venues is tough and amenities can be different. Bring your checklist of your must haves. If you ask the same questions from venue to venue, it will help you compare them side to side.
DO ask for a final price quote. Get a quote that includes all additional fees and ask if there is an option of a payment plan. Additional fees can include tables, chairs, linens, setup, break down, A/V, and more. Many of these amenities are included with room rental at Heritage Eagle Bend Golf Club. Also ask for the final price with tax and gratuity included.
The DON'Ts for Your Tour
DON'T bring too many people. Limit the people that are coming on your venue tours to those are the main part of the wedding, such as your Significant Other, the Mother of the Bride, Maid of Honor, etc.
DON'T feel rushed. Dates do fill quickly, but you should not feel pressure from the venue staff to book. Move forward when you feel completely ready.
DON'T leave without a copy of the contract. Take it with you so you can look over it in finer detail. Highlight anything that you have concerns about and make sure to ask the venue staff about those very specific items.
DON'T forget to check out all the areas around the venue. Make sure to look around the parking lot, decorations around the venue, bride and groom ready rooms and all other areas that are important for the logistics of your wedding and reception.
DON'T be shy to ask about their calendar. Venues should be transparent about their available and booked dates. It will also give you a good idea which times of they year are the most/least popular at the venue.